2PM members profiles: 2PM Ideal type, 2PM Facts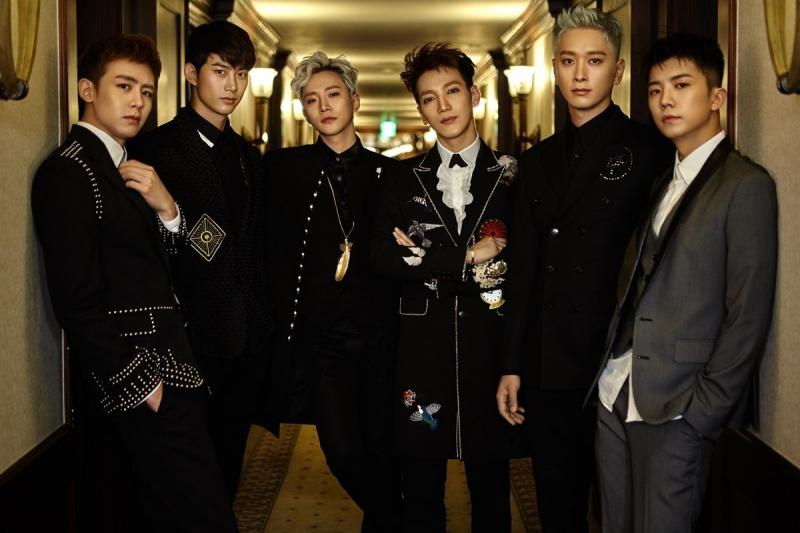 2PM (투피엠) contains of 6 members: Jun. K (formerly known as Junsu), Nichkhun, Taecyeon, Wooyoung, Junho and Chansung. The former leader, Jay Park, left the band in 2010. The JYPE trainees went through a survival show called "Hot Blood Men" after which a group of 11 members called "One Day" qualified for their debut. Later the group was split into 2PM and 2AM. 2PM debuted on 4 September 2008, under JYP Entertainment.
2PM Fandom Name: Hottest
2PM Official Fan Color: Metallic Grey
2PM Official Accounts:
Official Website: 2pm.jype.com
Official Website (Japan): 2pmjapan.com
V Live: 2PM
Twitter: @follow_2pm
Twitter (Japan): @follow_2PMJP
Facebook: 2pm.jype
Instagram: @real_2pmstagram
Youtube: 2pm
Youtube (Japan): 2PM Japan Official
Youtube: 2PM (on JYP channel)
2PM Members Profile:
Jun. K


Stage Name: Jun. K (준케이)
Birth Name: Kim Min Jun (formerly known as Kim Junsu) (김민준)
Position: Main Vocalist
Birthday: January 15, 1988
Zodiac Sign: Capricorn
Height: 180 cm (5'11")
Weight: 68 kg (149 lbs)
Blood Type: A
Religion: Buddhism
Twitter: @Jun2daKAY
Instagram: jun2dakay
Jun.K facts:
– He was born in Daegu, South Korea.
– Family: Mother, younger brother (his father passed away in 2012)
– He was born Kim Junsu, but on October 17, 2012, he announced that he would be legally changing his name to Kim Minjun (due to family reasons).
– Was accepted both into YG Entertainment and JYP Entertainment, but he chose JYP.
– Before he debuted, he won several song writing and poem contests.
– In elementary school and high school he had received over 70 awards for essays and book reports.
– His former stage name was Junsu.
– Jun. K speaks Korean, English, and conversational Japanese.
– Junsu was a troublemaker before. He skipped JYP's rules.
– He's friends with G–Dragon and TaeYang of BIGBANG.
– His hobbies are composing songs, fashion, collecting accessories and shoes.
– In 2011, he released his first solo single "Alive".
– In 2012, he starred in the musical "The Three Musketeers" where he played the role of D'Artagnan.
– In 2013, he starred in the musical "Jack the Ripper" where he played the role of Daniel.
– In 2014, he released his Japanese solo album "Love & Hate".
– His "Love & Hate" concert tour ranked in the top 10 best concerts in Japan in 2014, he being the only K-pop idol on the list.
– In 2015 he released his 2nd solo Japanese album "Love Letter", which quickly reached 1st on the Oricon daily album charts.
– In July 2016, he released his 1st Korean album, "Mr. NO♡".
– In December 2016, he released his 3rd Japanese solo album, "No Shadow", which also reached 1st on the Oricon daily album charts.
– In January 2017, Jun-K released his 2nd solo Korean album, "77-1X3-00".
– He was the 1st 2PM member who composed a title track for 2PM – "Go Crazy" (2014).
– He also composed the title track "My House" (2015).
– He composed the most songs for JYPE after J. Y. Park.
– He enlisted in the military on May 8, 2018 and got discharged on January 2, 2020.
– Jun.K's ideal type: He said he likes women who work and have a successful career.
Nichkhun


Stage Name: Nichkhun (닉쿤)
Birth Name: Nichkhun Buck Horvejkul (นิชคุณ หรเวชกุล)
Position: Vocalist, Rapper, Visual
Birthday: June 24, 1988
Zodiac Sign: Cancer
Height: 181 cm (5'11")
Weight: 64 kg (141 lbs)
Blood Type: O
Religion: Buddhism
Twitter: @Khunnie0624
Instagram: @khunsta0624
Nichkhun facts:
– He was born in Rancho Cucamonga, California (his parents being ethnic Chinese, from Bangkok, Thailand).
– Family: Mother, father, an older brother (Nichan), two younger sisters – Nichthima (Yanin) and Nachjaree (Chereen)
– His mother was born in Thailand to immigrant parents from China.
– His father's mother is from China, wile his paternal grandfather was born in Thailand from Chinese parents.
– He comes from a wealthy family, which earned him the nickname "Thai Prince" in South Korea.
– He has dual Thailand / USA citizenship.
– He moved to Thailand from the United States at the age of five, with his family.
– He studied at Dhepkanjana School and Tangpiroondham School (Thailand).
– At the age of 12, he went to New Zealand and studied at Wanganui Collegiate School, for a year and a half.
– Then he moved back to the United States to finish his studies at Los Osos High School in Rancho Cucamonga, California.
– He was scouted by a JYP agent in Hollywood, California while he was attending the Korean Music Festival in Los Angeles.
– After passing the auditions, he began his trainee period in 2006.
– In 2009 he was the subject of enlisting and do his military service for Thailand, but he obtained an exception.
– He can play the piano and the guitar.
– Nichkhun is known for his charms and winks.
– He speaks Thai, English, Mandarin, Korean, Japanese and basic French.
– In 2011, he participated in the "We Got Married" show, where he was paired with f(x)'s Victoria.
– In 2014 he dated SNSD's Tiffany. In 2015 they broke up.
– He acted in movies such as: "Shining Diploma" (2011), "Ouran High School Host Club" (2012), "Seven Something" (2012), "A Dynamite Family" (2014 – cameo)
– He appeared in Korean dramas like "Dream High" (2011 – where he made a cameo appearance) and "The Producers" (2015 – where he played himself in ep. 3)
– He acted in the Chinese dramas: "One and a Half Summer" (2014), "Looking for Aurora" (2014)
– He acted in the web series drama "Magic School" (2017) alongside GOT7's Park Jinyoung.
– In February 2019 Nichkhun released his first solo mini album, "ME".
– Nichkhun's ideal type: "I like women who are good at what they do. It would be great to meet a woman with whom I could share deep thoughts concerning work and the future."
Taecyeon


Stage Name: Taecyeon (택연)
Birth Name: Ok Taec Yeon (옥택연)
Position: Main Rapper, Sub-Vocalist, 2nd Visual
Birthday: December 27, 1988
Zodiac Sign: Capricorn
Height: 185.7 cm (6'1″)
Weight: 76 kg (167 lbs)
Blood Type: AB
Religion: Christianity
Twitter: @taeccool
Instagram: @taecyeonokay
Taecyeon fun facts:
– He was born in Seoul, but later moved to Busan, South Korea.
– Family: Mother, father, an older sister (Jihyen)
– At the age of ten, he migrated together with his family to Bedford, Massachusetts, USA.
– He studied at Bedford High School (while he studied there he was an active member of the Chess Club, Jazz Band, JV Soccer Team and National Honor Society).
– He lived in the USA for 7 years.
– After returning to Korea, he studied at Young Dong High School in Seoul.
– Then he studied Business Administration at Dankook University.
– He is currently attending Korea University Graduate School of International Studies.
– He auditioned for JYP Entertainment in New York in order to be a model.
– He speaks English, Korean and Japanese.
– In 2013 Taecyeon joined global "We Got Married" and was paired with Taiwanese actress Emma Wu.
– In 2010 he announced he gave up to his American visa, in order to be able to serve his military duties in Korea.
– He announced he will enlist in 2017.
– He acted in Korean dramas such as "Cinderella's Sister" (2010), "Dream High" (2011), "99 days with the Superstar" (2011), "Who Are You" (2013), "Wonderful Days" (2014), "Assembly" (2015), "Let's Fight, Ghost" (2016), "Save Me" (2017), "The Game: Towards Zero" (2020).
– Was on JYP's "Superstar Survival" along with Chansung and Junho, but was the first to leave.
– He received a bloody letter from a fan who is crazy about him.
– Even if he's considered a "beast idol", when behind the scenes he often shows a lot of aegyo.
– In January, 2017, Taecyeon released his 1st solo album.
– He also held his 1st solo concert, 'Taecyeon (From 2PM) Premium Concert' at the Tokyo Dome City Hall, in Japan on January 2 and the 3rd.
– Taecyeon composed the title track "Promise (I'll be)" for 2PM's latest album, "Gentleman's Game".
– Taecyeon enlisted in the army on September 4, 2017 and got discharged on May 16, 2019.
– On 25 July 2018, it was announced that Taecyeon didn't renew his contract with JYP Ent, and signed with 51K. However, it was announced that he may still continue his activities as a 2PM member.
– Taecyeon's ideal type: "I used to like cute and short girls, but as I grew older I decided to open up my heart. Now, forgetting the ideal, I like everyone!"

Wooyoung


Stage Name: Wooyoung (우영)
Birth Name: Jang Woo Young (장우영)
Position: Main Dancer, Lead Vocalist
Birthday: April 30, 1989
Zodiac Sign: Taurus
Height: 178 cm (5'10")
Weight: 65 kg (143 lbs)
Blood Type: B
Religion: Buddhism
Twitter: @0430yes
Instagram: @0430_live_boy
Wooyoung facts:
– He was born in Busan, South Korea.
– Family: Mother, father, elder sister (named Junhwa).
– He was selected as a JYP trainee after he won the audition against 5,000 other candidates.
– His dad was initially against his dream of becoming a singer, but now he encourages his son and often sends letters to Wooyoung.
– During 2PM's Hands Up Asia Tour, Junho and Wooyoung performed together a song that Junho wrote, while Wooyoung choreographed and designed their outfits.
– Wooyoung was the first 2PM member to release a single album – "23, Male, Single" (July 2012).
– In 2015 he made his solo debut in Japan, with the single "R.O.S.E.
– Then he had a tour of solo concerts in Tokyo, Osaka, and Aichi.
– He studied in Seoul School for Arts. He is a dance major.
– He acted in "Dream High" where he had one of the lead roles as Jason (a Korean – American).
– During the filming he received help with English from his bandmates Nichkhun and Taecyeon.
– Wooyoung said that he had an "Artist Syndrome", however he said that it is cured. (KBS Radio Star ep 553)
– In 2011 he had a cameo appearance in the KBS Drama Special "Human Casino".
– In July 2011, he trained actress Kim Gyu-ri for her performance on MBC's Dancing With the Stars.
– He was the MC for the music show Inkigayo from July 2009 to July 2010, alongside with Taecyeon.
– In 2014, he participated in the "We Got Married" show, were he was paired up with actress Park Se Young.
– Along with Taecyeon, he modeled for different clothing brands such as Evisu or Reebok's Classic Campaign.
– In 2014 he was assigned as the new face of Recipe Cosmetics.
– Wooyoung enlisted on July 9, 2018.
– Wooyoung was discharged from the military on February 25, 2020.
– Wooyoung's ideal type: "My ideal type is a person I can communicate with well"
Junho


Stage Name: Junho (준호)
Birth Name: Lee Jun Ho (이준호)
Position: Main Vocalist, Lead Dancer
Birthday: January 25, 1990
Zodiac Sign: Aquarius
Height: 177 cm (5'10")
Weight: 67 kg (147 lbs)
Blood Type: A
Religion: Christianity
Twitter: @dlwnsghek
Instagram: le2jh
Junho facts:
– He was born in Ilsan, Goyang, South Korea.
– Family: Mother, father, older sister
– He won JYP's "Superstar Survival" placing first out out 6,000 contestants (The same program Taecyeon and Chansung were in)
– He owns 6 cats: Johnny, Wollie and others
– JunHo was often accused of doing plastic surgery because of his resemblance to Rain.
– During "Superstar Survival" and his trainee years, Junho had a bad attitude.
– There was a point where Junho was going to be kicked out of JYP Entertainment because of his attitude and because he was lagging behind the others. When his mother found out called JYP and begged them to give him more chance.
– His cousin is a pitcher for the Doosan Bears.
– He speaks Korean and Japanese, and a bit of English.
– In 2010, he was part of the cast of the show "Let's Go, Dream Team" Season 2.
– In July 2013 he released his first solo mini album, "Kimi no Koe".
– Then he started his first solo tour, which ended in Tokyo, on August 29, 2013.
– In July 2014, Junho released his second Japanese mini-album, "FEEL" (for which he composed and produced all the songs).
– In the day of its release, "FEEL" topped Oricon's daily album chart.
– On July, 2015, he releases his third Japanese mini-album, "SO GOOD".
– He acted in movies such as: "Cold Eyes" (2013), "Twenty" (2015), "Memories of the Sword" (2015), "Homme Fatale" (2019) and "Rose and Tulip" (2019).
– He acted in Korean dramas such as: "Memory" (2016), "Uncontrollably Fond" (2016, cameo – ep. 4), "Chief Kim" (2017), "Just Between Lovers" (2018), "Wok of Love" (2018), "Confession" (2019).
– He is an animal rights activist.
– He enlisted on May 30, 2019. His scheduled discharge date is March 20, 2021.
– Junho's ideal type: "A woman with who I can talk to easily and communicate with well."
Chansung


Stage Name: Chansung (찬성)
Birth Name: Hwang Chan Sung (황찬성)
Position: Lead Rapper, Vocalist, Maknae
Birthday: February 11, 1990
Zodiac Sign: Aquarius
Height: 184 cm (6'0″)
Weight: 75 kg (165 lbs)
Blood Type: B
Religion: Buddhism
Twitter:@2PMagreement211
Chansung facts:
– He was born in Seoul, South Korea.
– He studied at Korean Art High School and Howon University.
– He speaks Korean, intermediate Japanese, and basic English.
– He knows martial arts such as Taekwondo and Kumdo.
– Participated on JYP's "Superstar Survival" along with Taecyeon and Junho, but didn't win
– He acted in shows like "Unstoppable High Kick" (2006-2007 before 2PM's debut), "Dream High" (2011), "Brilliant Thieves Royale" (2011), "7th Grade Civil Servant" (2013), "Ms. Temper & Nam Jung-Gi" (2016), "Romantic Boss" (web drama 2016), "Romantic Doctor, Teacher Kim" (2016 – cameo appearance), "Housewife Detective" (2017), "Suspicious Partner" (2017 – guest role), "What's Wrong with Secretary Kim" (2018), "Touch Your Heart" (2019 – cameo appearance), "My Holo Love" (2020).
– He acted in the movies "Midnight Runners" (2017 – cameo appearance), "Rose and Tulip" (2019 – cameo).
– He acted in label mate Joo's MV for "Bad Guy".
– He has achieved high levels in Taekwondo and Kumdo.
– Chansung prefers to sleep on the floor (as well as Wooyoung).
– Has a cat named Jeonggam.
– On June 11, 2019 Chansung enlisted in the military. His scheduled discharge date is January 5, 2021.
– Chansung's ideal type: "I don't care about age although there are a lot of older women who treat me as a younger brother. Women who carry their own style are charming."
Past Member(s)
Jaebeom (aka Jay Park)